Course details
SENSU 【Women's Association】 Course 2 hours with unlimited drinks 3980 yen (tax included)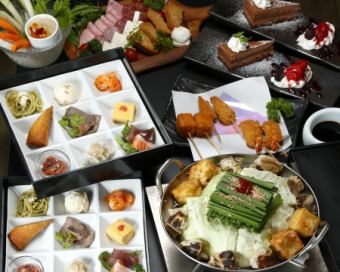 All-you-can-drink available

All you can drink 【120 min】 Plan
Reservation deadline

Until 23 o'clock the day before the store visit date
Available days for reservation

Monday - Sunday - Public holidays - Holidays
With the pot you can choose! It is perfect for girls' societies to enjoy in a private room ♪ 2 hour drink all you can afford is limited to groups of women's customers ◎Please make a reservation in advance.
Course menu
◎ sense appetizer 9 point plate
9 point plate containing carefully selected ingredients and seasonal ingredients!
◎ Assorted cheese and raw ham
Assorted using several kinds of cheese, raw ham, salami etc!
◎ Special vegetable stick of dip
The original special dip becomes addictive!
◎ Nabe (Our salted roasted mochi pot · soy sauce · miso taste) or (sense pot · salty)
Our specialty! You can choose from Milfieu pot with boiled mochi pot and louis vuit of boast.
◎ Assorted deep-fried skewers
Three fried skewers of bite size, one by one!
◎ Deep-fried champagne noodles or rice cookies
Please choose from the noodles you picked out and rice cooked rice made in Shizuoka.
◎ Dessert
Of course, the end is dessert!
※ Only for female group reservations
Course contents may be changed depending on purchase situation ※.Please note.
All-you-can-drink menu
·Living
· (Pitcher available)
· ~ High Ball ~
· Angle high ball / black high ball (cola) / gold high ball (ginger) / yuzu high ball
· ~ Shochu ~
· Wheat shochu (water split · hot water split · rock) / sweet shochu (water split · hot water split · rock) / oolong tea high / green tea high / mirror Sengoku (acerola · yuzu · plum)
· · Japanese sake
· Hot / cold wine
· Plum wine ~
· Water split / soda split / lock
· ~ Sour ~
· Lemon Sour / Grapefruit Sour / Ginger Sour / Ice Tea Sour / Calpis Sour
· ~ Cocktails ~
· Cassis Orange / Cassis Soda / Cassis Oolong / Peach Oolong / Fuzzy Navel / Campari Soda / Campari Orange / Campari Grapefruit / Mango Orange / Mango Soda / Gin Tonic / Kalua Milk
· ~ Glass wine ~
· Red wine / white wine
· ~ Collagen · Vitamin C Sour -
· Plus collagen tomato sour / plus collagen white grape sour / plus collagen rose hip sour / plus collagen rose sour / plus collagen hibiscus sour / plus collagen yuzu sour / plus collagen peach sour / plus collagen kiwi sour.
· ~ Collagen · Vitamin C Sour -
· Banana sour with with plus hyaluronic acid and collagen / cam plum sour with with plus hyaluronic acid and collagen / southern high plum sour with plus vitamin C with apple sour with plus vitamin C with honey lemon sour with plus vitamin C
· ~ Non-Alcohol Cocktail ~
· Cassis orange / cassis oolong / cassis soda / fuzzy group / peach oolong / plum wine
· ~ Soft drink ~
Oolong tea / green tea / cola / ginger ale / calpis / orange juice / grapefruit juice / ice coffee / iced tea
2018/01/16 update